Recent News......
30th October 1999
Well, Mr Surine ported the MAME (Game emulator) into the Digita OS, which runs on several brands of digital camera (e.g. Kodak), and it seems to be actually working... very amazing.
The Akamai IPO rocket reaches over USD$140 today. The $12.5 million invested by Apple in June for the QuickTime TV network now worths over $600 million on book.........
The company "Atelier" that port the original SimCity to EPOC, had ported SimCity to Palm. It's USD$29.95 and available for sell immediately. Now you can play it while you are in the bathroom....
Toshiba will pay $1 billion USD to settle a class-action lawsuit of notebook computers, about 5 millions notebook computers will be affected. The settlement is only valid in the US and not anywhere else.
There are a few new Rev/H iMac photos posted at imac2day.com.
28th October 1999
Apple Hong Kong today run full-page empty ads at Apple Daily for the Apple Store, usually I guess they'll run at SCMP too.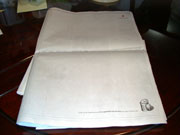 The famous computer science professor Donald Knuth is giving lectures about Religion and Computer Science at MIT. The lectures are telecasted using Real Player.
27th October 1999
Reuters had an interview with Tony Li of Apple HK. Talking about the exports restriction to China, actually other than stamping a sticker on your G4, they couldn't control if you guys will smuggle one into China.
Apple Store Hong Kong is now opened. Things seems to be a bit cheaper than their press release price, e.g. MacOS 9 is only $780 and iMac DV is about $100 cheaper. They also have free delivery and apparently, the store is operated in Singapore(?!).
Pictures from Apple's demo days in the US.
This is from Apple Hong Kong's E-News:
"APPLE FULL LINE PRODUCT PREVIEW &
APPLELUB MEMBER'S PARTY
DATE 29 OCTOBER 1999 (FRIDAY)

TIME: 11:00AM - 4:30PM
(PRODUCT PRESENTATION AND DEMONSTRATION WILL BE DONE AT 11:00AM AND 2:30PM)
VENUE: EUREKA RESTAURANT,1305 FOOD FORUM, TIMES SQUARE, CAUSEWAY BAY, HONG KONG
3 REASONS WHY YOU MUST JOIN:-
Product presentation and demonstration of our latest and greatest Apple1s products (PowerMac G4, iMac, iBook, iMovieSS).
Your chance to pre-order any of our products and get a free iBook T-shirt.
AND of course free drinks and food.COME AND JOIN US! NO REGISTRATION REQUIRED. FREE ADMISSION."
26th October 1999
The Apple Store Asia page went live. There will be a lottery that the winners could go to the Macworld expo SF 2000, before it's officially announced, it's not better to register right now. The deadline is 30 November 1999.
25th October 1999
Someone had make Linux to boot on iBook. Now, let me boot MacOS X!
24th October 1999
The MacOS 9 CD now contain new music video from Barenaked ladies (Call and Answer) and static X (push-it). It's located in the CD Extra folder. The CD also packs some very nice AppleScript Guidebook, it covers things from Desktop printing to automating the finder, suitable for all ages I guess.
Kenji Gotoh from Japan created a freeware QuickTime Movie to MPEG1 converter. As the author said, it's bloody slow, so don't expect any serious work from it, but the source code is available as well, so you might condier adding in AltiVec acceleration yourself.
23rd October 1999
Starting from today, I will make a chinese version of the daily links, please give me feedback about what you feel over it.
Smalltalk of Darwin at the FreeBSD Conference 99. BSD will form the core of the new MacOS X. If you have never heard of BSD (but Linux), it is actually used in places like Yahoo and ftp.cdrom.com.
CTO of a tech company not allowed into COMDEX. More precisely, a 17 year old CTO....
ATI will open source their Rage 3D driver. But probably nerds don't like the Rage 3D, right?
22nd October 1999
Fujitsu had released an iMac like all-in-one computer. The panel at the side and speaker are detachable, and you can change the colors of it.
I found the Hotmail support in OE5 being rather slow, and you can't delete the MSN Announcement folder either. Makes me wonder why I should use it in the first place? Yahoo's free pop3 is rather nice.
You should be careful if you are using OE5 and MacOS 9. I found the mails are now stored in the "Documents" folder in your startup drive, instead of residing in the same folder of OE5's binary. If you tried to move the "Microsoft User Data" (which stores your mail) back to OE5, it will recreate the Documents folder, as well as a new idenity for you automatically. The most dangerous aspect is OE5 will still able to access your mail, even if you move the whole "Microsoft User Data" folder into trash. The correct way to move your mail to a new location is, to create an alias inside the Documents folder to your new mail location. Anyway, this only applies to MacOS 9 and OE5.
Actually, all of this was mentioned in the Readme, but who bothers to read?
You can create your own sound set in OE5.
Reliable source told me that your USB tablet may not work on MacOS 9.... doh!
One company released a Palm III that accept a compact flash card! Imagine a Palm with a 340MB IBM Microdrive?!
21st October 1999
Well, the conversion of OE4.5 to OE5 takes over 1.5 hours for about 100MB of mails. It now uses a single file format over the previous multi file format. No doubt OE5 is rather nice, but it also spells hard times for other Mac Email clients like CTM PowerMail and MailSmith. And as a matter of fact, few people could notice MailSmith has recently released a new version! It's difficult to beat something that sells for nothing. With Half-Life and Chinese Filemaker canceled, and more softwares became incompatible with new version of MacOS, things doesn't look right for me.
Anyway, on the light side, who has the seven worst website?
Asia AppleStore to open next week, Steve Jobs fly to Singapore for opening ceremony.
AppleDaily make a historical overview of all important Macs in the last 15 years.
19th October 1999
Outlook Express 5 is now available for download.
Apple's product occupied top 10 positions on 16-17/Oct of BCN Market View Japan sale's tracking.
CNN is reporting that G4 is not allowed for sale in China, and imply a bit about the reason for the disappearance in the regional product launch, although they wasn't saying Hong Kong is not permitted to sell, it does seems to making some suggestions to this. It might explains why the G4 webpage was mysterously removed on Apple Hong Kong's web site in the last few days.
18th October 1999
QuickTime got a new logo, it looks more like candy now. You can compare with the old logo here.... (be quick or they might change it too...)
Dissect an iBook. Just hours after sale in Japan, some Japanese already dissected their iBook!!!! The mother board (pic 1), (pic 2) - It seems removing the CD-ROM and use a smaller battery MAY yield an Apple subnote. But it seems some effort are need to reduce the thickness.
The iMac is also dissected. Picture for the motherboard. The heat sink is not for G3, but for the ATI Rage 128!
Macintouch's story on Japan's new iMac launch.
Microsoft Japan is saying that both the Japanese and English version of Outlook Express 5 will be available on 19-Oct-1999.
16th October 1999
This Week's Soap Opera: "As the Apple Turns".
Apple HK announces prices for the new iMac:
iMac "low-cost" HK$8,500
iMac DV HK$10,850
iMac DV Special Edition HK$12,550
They will be available in late October.
Not enough iMac for Japan. Retailers will only get a handful of them....
Gateway will release their ugly-in-one computer - the Astro. I believe they want it to look like a cow.
I am certain MacOS 9 will break every records for application compatibility...
15th October 1999
I wish to announce the availability of a beta version of the traditional chinese Array input method. If you are an array input method user, please help to test and give me some feedback. The file is available in the goodies page.
Konka of China had made an iMac like TV! It looks sooooooo ugly.....
According to numerous report, Apple canceled and un-cancelled orders of G4 at the Apple Store. The G4 pages at Apple Hong Kong was teared down immediately after the "re-configuration" announcement.
Hong Kong MacOS 8.5/8.6 owners are eligible for an HKD$160 rebate if you buy MacOS 9.
14th October 1999
G4 will speed dump by 50mhz but keep the same price. Reportedly, the DRAM price doubled.
Members of HKMUG tonight pay a visit to Apple's office to see the new iMac. Only three of the new iMacs were shown: Low cost Blueberry, Lime iMac DV and Graphite iMac DV Special Edition.
The new iMac is definitely great, although without a fan, it not really hot, I think it's a bit cooler than my 17" monitor. They are still not sure if iMovie will support PAL, probably do... The DVD player is still beta and it subjects to the region code required by all DVD player venders. (Which mean you can only change it for 5 times.)
Those iMac will fly away to Singapore tomorrow and actually they only stayed here for 2 days.
One tidbits is the Apple Store Asia will open soon, and it will probably launch together with G4, iBook and the iMac in late October or early November. The iMac DV SE will only be available in Apple Store.
I have shot some photos by the way.